Definition: Ecommerce photography is a photo created as a visual stand-in for your product for shoppers in an online store.
For example, these are the photos you see on ecommerce product listings for sites from Amazon to Zappos, as well as self-hosted ecommerce sites. If you've done any online shopping, you're already familiar with ecommerce photography. These photos, along with product specs or a written description, represent the product to the online shopper and give them information about the product.
Quality ecommerce product photography has evolved with the popularity of online shopping and become an essential for businesses large and small. Good ecommerce photography allows third-party sellers and self-hosted ecommerce sellers alike to represent their products on platforms and online stores, as well as drive sales.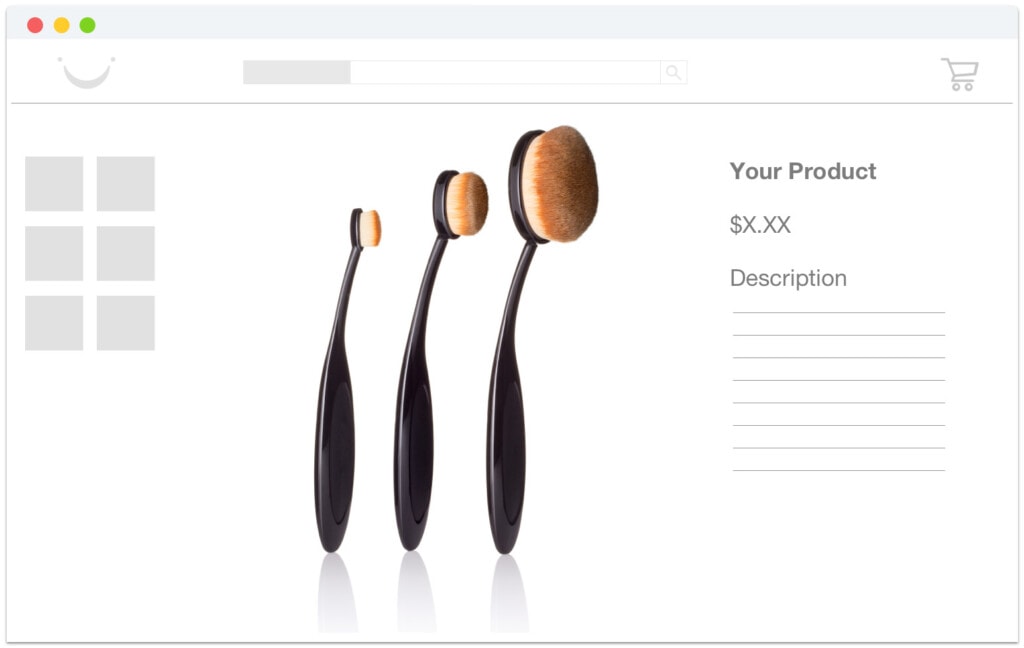 Typical Qualities of Ecommerce Product Photography
The standard for ecommerce photography is straightforward photography of a product. Although product photography can be varied and run the spectrum from professional to inadequate, certain qualities are recognized as the industry standard for online retailers.
Ecommerce photography includes clear images of the product. Products are well-lit, and images meet the resolution standard of the ecommerce platform.
Photos are traditionally of the product against a white background, or other simple background, in order to remove distraction and focus attention. 
The product fills most of the space and is the focus of the photo. The crop of the photo emphasizes the product, front-and-center.
In addition to a straightforward image of the product, photos can show several angles or parts of the product such as the back, open and shut, hardware, or close-ups. This allows the customer to understand the product better.
Advanced ecommerce product photography may also include lifestyle and in-use product photography to demonstrate the product's use, or 360-spin product photos that display every angle of the product.
(Amazon sets the standards for most ecommerce requirements today.  You can see their requirements here.)
Goals of ecommerce product photography
Online, a customer can't hold or inspect a product in their hands as they would in a store. The goal of product photography is to give just as much product information virtually- at a glance. Written descriptions provide a customer with facts about a product, but they can't convey the amount of information or invoke an emotional response the way good product photography does. This type of photography allows the product to "speak for itself."
In addition to providing instant visual answers to customer questions, ecommerce product photography may be strategically used for other goals as well. These may include:
Practical information about the product, such as what it is and its purpose
Illustrate basic information about the product, such as material, color, size etc
Display a product's value
Foster the buyer's trust by clearly displaying aspects of the product
Provide context 
Demonstrate a product's additional uses and features
Reduce returns by answering potential questions and representing product accurately
Indicate a product's demographic
Use for marketing campaigns and more!
Summary
Ecommerce photography can take on many forms and include different qualities. While there are features of ecommerce product photography that have become the standard, it continues to evolve with the ecommerce industry. This kind of photography aims to represent a product through a clear visual to prospective customers, allowing them to experience the product in the virtual world.