What To Do If You Don't Approve Of The Photos?
What To Do If You Don't Approve Of The Photos?
1. Don't Panic - Reshoots and Revisions Happen
Changes in the commercial art world are not unusual because everyone sees things differently. If I like blue & you like red, does that mean that blue is bad? Not really, you just have to politely tell the artist to make it red instead of blue.
Photography is more of an art than a science & things like exposure, contrast & lighting are abstract, making communication difficult. As photographers, we're taught how to be critiqued by others and if you can learn how to critique us effectively you can get exactly the photo you imagine and more.
There's rarely an issue that we can't solve for our customers and the key is to communicate your vision as clearly as possible. In this article, we'll review some common issues & discuss how to communicate changes.
2. Check The List Of Common Issues First
Working with digital images can be more difficult than most people realize. Below is a list of common issues. If you see your issue on the list take a second and review the article below - your issue may be solved very easily. Of course, we are always here to help via email, phone or chat.
Common Issues
Image is too bright or contrasty
My image resolution is too small or not sharp enough
The photo isn't big enough in Amazon or doesn't fill the frame in Amazon
Visit the Common Issues - Overview page
3. How To Request Revisions/Reshoot
First, make sure that you've downloaded the original image. You should see it on your desktop or in the downloads folder. Previews or thumbnails, even on the gallery page, will not give you a clear view of the final image.
Reply To The Approval Email & Be Clear & Detailed About Changes
Tell Us In Words
Reply to the Approval Email with your changes. If you can clearly explain it in words, then explain it in the email. Be sure to specify which images you're referring to by the image title or file name.
Annotate The Image
The best way to request a change is to mark-up the actual image itself and attach it to the email.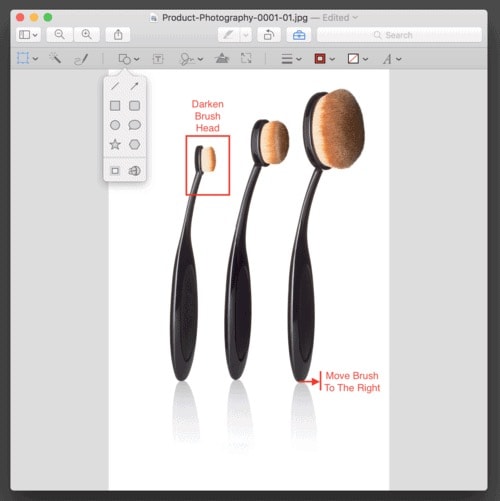 Once you've sent in your request, we'll check the order in for revisions. Standard turn around orders will be revised or reshot within no longer than 5 business days. Rush turn around orders will be revised or reshot within no longer than 2 business days. 24hr turn around orders will be revised ASAP within one business day.
We try to turn around revisions as quickly as possible, and for most orders it does not take the full revision time. We only allot the redo turn around times to accommodate large orders or difficult revisions. Reshoots tend to take a little longer as a photographer needs to set everything up again for shooting.
4. Paid Vs Unpaid Reshoots
We don't enjoy charging our customers for reshoots but we do have to set some limits. Step 2 has been designed to limit paid reshoots and it works for the majority of our customers.
Our Totally Reasonable Reshoot Policy
If you tell us clearly how to photograph your product and we don't do it that way, we'll redo it for free.
If you change your mind or want something different than what you specified in your directions then that will be a paid reshoot.
Basic photoshop adjustments are free.
Please note that you can request up to 2 revisions. Beyond that it is at POW's discretion to provide additional revisions.
We work hard to get you the best photos possible, but we are not able to sustain ongoing revisions.