Amazon Main Listing Images
Your main image is the most important photo on your listing, as this is what your customers will see first.
Next to price it is the most important element in converting sales and driving traffic to your listing. Bad photos will make your brand look untrustworthy and poor quality.  Experts generally agree that a professional product photo vs an DIY iPhone photo for the main listing image will see a 20% increase in sales, but we have heard of much higher returns from our customers.
So if you're going to invest in anything, the main listing image is it. Below we'll cover the technical image requirements and some examples of good listing photos.
Amazon Image Requirements for Main Listing Images
Main listing images are the first image you see in the search and on the listing. They are by far the most important images in the listing. A better main listing photo will get more clicks and drive higher sales. Amazon is very strict about this photo but as long as you stay within these requirements, you can get very creative.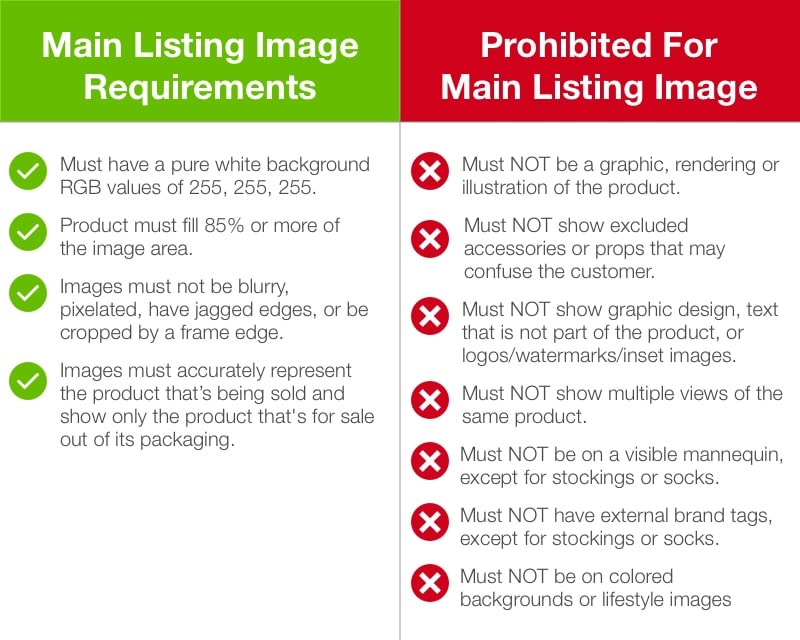 Requirements For Main Listing Images Only
Must have a pure white background - RGB values of 255, 255, 255.
The product must fill 85% or more of the image area.
Images must not be blurry, pixelated, have jagged edges, or be cropped by a frame edge.
Images must accurately represent the product that's being sold and show only the product that's for sale out of its packaging.
Prohibited For Main Listing Images Only
Must NOT be a graphic, rendering or illustration of the product.
Must NOT show excluded accessories or props that may confuse the customer.
Must NOT show graphic design, text that is not part of the product, or logos/watermarks/inset images.
Must NOT show multiple views of the same product.
Must NOT be on a visible mannequin, except for stockings or socks.
Must NOT have external brand tags, except for stockings or socks.
Must NOT be on colored backgrounds or lifestyle images
Clothing Only
Prohibited

For main images:
Images with a non-pure white background (RGB less than 255)
Images with part of the product for sale cropped by a frame edge
Text, logos, borders, color blocks, watermarks, or other graphics over the top of a product or in the background
Multiple positions of the same model, or multiple views or colors of the same product in the main image
Models that are sitting, kneeling, leaning, or lying down (models must be standing)
Images that show packaging or brand or swing tags, except for stockings or socks
Visible mannequins, except for stockings or socks
For all images, including alternate images:
Images that do not match the product title
Nudity or sexually suggestive images
Images that are blurry, pixelated, or have jagged edges
Images of Kids & Baby underwear or swimwear that are photographed on a model
Visit Amazon's Seller Central Clothing Guidelines for a full list of requirements.
How To Get Great Main Listing Images
What makes a good main listing image? Other than the white background, there are a couple of things to consider.
Crop & Plan Your Images To Be Square
Amazon supports images that have been cropped to many different sizes. However, if the image is not square, it will add padding around the outside of the image to make it square. The red above is an example of what has been added, normally this would just be white.
Creating arrangements that are long or wide won't use the entire square space making the images look smaller. This happens a lot with large groups or long items like an extended selfie stick for example. When uploaded to seller central, white space is added by the system to make the image square.
Tip: Try to plan product arrangements that result in a final image that can be cropped square.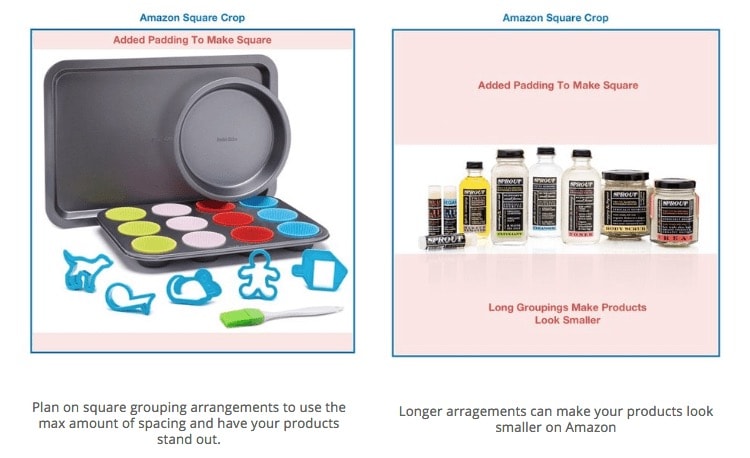 Photo Examples
Photos are one of the most important aspects of a listing. A great picture can make your product look awesome, increase click through rates and sell more products. Bad photos can make your product look low quality. So why go cheap DYI route if it's so important?
If you're deciding to do it yourself vs hiring a professional, then ask yourself this question, "Is it worth it?" Studies and experts agree that professional photos sell significantly more products on Amazon than DIY. Below you can see the difference between a cell phone photo and a professional image.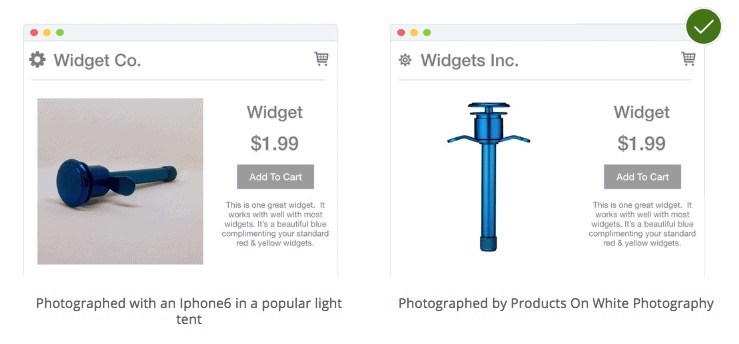 Here are a few more examples of photos we've shot that would make great main listing images: